48-Channel Full Stereo Digital Mixer
A new routing approach with an emphasis on sources instead of channels

Fully compatible with Behringer X32 / Midas M32 consoles and stage boxes

Vintage emulations of EQs, compressors and gates available in each of the 40 stereo inputs

40 Stereo inputs

8 Stereo AUX inputs

28 Buses: 16 stereo AUX, 8 stereo matrices, 4 stereo mains

24 Faders in 3 fully programmable sections

10'' Touch display with adjustable angle

Programmable Custom Control section

8 Midas Pro microphone preamp

8 Analog Midas line outputs

8 AUX inputs

6 AUX outputs and 2 monitor outputs: 6.3 mm jack balanced mono

2 Headphone outputs

3 AES50 ports: 48 x 48 channels per port - cable length up to 80 metres

MIDI input/output

2 Programmable GPIOs

48 x 48 Channel USB interface

Expansion slot, including a WING-LIVE card

64 x 64 channel SD recorder/player

StageCONNECT 32-channel port for personal monitoring

16 FX engines: 8 premium, 8 standard

6-Band EQ in the inputs

8-Band EQ in the outputs

Dimensions (H x W x D): 201 x 870 x 575 mm

Weight: 24 kg

Suitable cover available under article no. 480990 (not included, must be ordered separately)
Suitable case available under article no. 499924 (not included, must be ordered separately)
Suitable Dante expansion card available under article no. 512976 (not included, must be ordered separately)
Available since
December 2019
Max.number of input channels
48
Analog in/ out with plug-in card expandable
No
Digital in-/ outputs expandable
Yes
User Interface
Physical/remote
Digital stagebox connection
AES50
Soundcard interface
USB-B
integratated Player/Rec via USB/SD
stereo
Separate Personal Monitor system
Optional
High-performance 48-channel digital mixer
The Behringer Wing is a digital mixing desk with 48 channels that builds on the success of the company's X32 model. The mixer, which features a user interface with 24 motorised faders and a 10" touchscreen display, also offers mixing afficionados features that include remote control, touch-sensitive rotary controls, high-quality preamps, numerous integrated sound processing plugins, an SD card recorder/player with a marker function, and an optional extension for use in an Ethernet network. A particular feature is that the operating elements can be freely assigned, and stage boxes like the Behringer S16 can also be connected. The Behringer Wing is without doubt one of the most high-performance devices in its price range.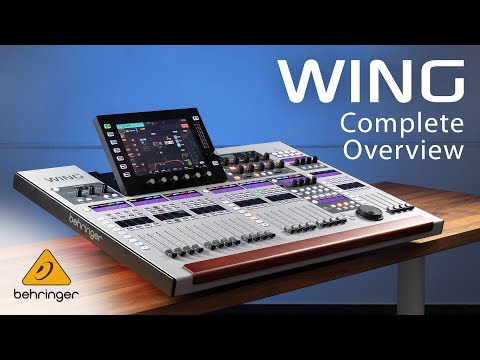 Extensive connectivity and adaptive flexibility
The mixer is equipped with 40 stereo inputs and an additional eight stereo AUX inputs, while its eight Midas ProSeries preamps ensure a high-quality microphone sound. The input channels feature a six-band EQ unit for signal processing, and the WING also features eight standard effect slots and eight additional premium effects per channel with vintage emulations of equalisers, compressors, reverb units, and more, allowing the sound to be fine-tuned even further. A section with freely programmable control elements allows the Behringer WING to be adjusted to suit your personal workflow. The angle of the display can be adjusted to ensure that it is always legible, and its touchscreen function means that detailed work can be carried out on the mixer in a clear and direct manner.
For beginners and professionals alike
The Behringer WING's intuitive operation is great news for beginners (though they will still require some knowledge of the basic principles of mixing in order to use it), while advanced users will find the WING to be a high-performance companion which allows them to individually customise their own workflows. This mixer also includes a range of features for professional users, such as mid/side signal processing, AES ports, and compatibility with WAVES Soundgrid and Dante AES67. The faders are arranged in separate sections of four faders each, giving users of all experience levels direct access to the most important channels in their production at all times. Users working with DAWs can control their software using the mixer's integrated controller function, which is based on Mackie HUI and Mackie Control. The device's internal designations for assigned audio sources can be renamed using the WING Co-Pilot app and, once they have been entered, these can be used for various routings across the entire device.
About Behringer
The company, which was founded in Germany by Uli Behringer and now manufactures its products in China, has been known for affordable and great-value equipment since its very first product, the Studio Exciter F. An array of mixing consoles (such as the Eurodesk MX8000), signal processors, and later sound amplification and monitoring equipment, has made it possible for countless musicians to fit out their home studios, practice rooms, and mobile PAs within budget limits that were previously unthinkable. The acquisition of other companies, including Midas, Klark Teknik, and TC Electronic, meant that new product groups were added - and also resulted in the technical expertise of these companies being incorporated into product development.
Universal tool for mixing and monitoring
The Behringer WING can be used live as an FOH mixer when combined with Behringer X32 consoles and stage boxes, which keeps the microphone cables short and the signal quality high. When used as part of a network, the WING can operate with cable lengths of up to 80 metres, making it ideal for fixed installation at event locations and as a live mixing desk at medium-sized venues. And the mixer also features a pair of headphone outputs, which means two people can use it simultaneously and makes it perfect for teamwork. Eight line outputs allow the mix signal and sub-mixes to be used for multiple purposes in parallel, such as a main mix, different monitor mixes, and analogue recording. To provide individual monitor mixes, the mixer includes a 32-channel StageCONNECT port to supply compatible devices with sound. The Behringer WING's "Automix" function automatically regulates preamplification for both active and non-active microphone inputs and thus helps when mixing sound at events with presenters/moderators, at conferences, and in radio broadcasts.
This is what customers who viewed this product bought