Europe's Largest Warehouse
As the world's largest mail-order music equipment company we are proud to offer you the greatest range of immediately available products. To maintain this, we are constantly expanding our warehousing and logistics capacities as well as our teams of specialists on site, who will assist you in word and deed.
Over the past few years, our storage area has been continuously extended in order to optimise the availability of all products in our catalogue to minimize delivery times.
What's in it for me?
Big quantities = low price
Because we buy large quantities and keep them in stock, we get the best prices from all the manufacturers. Our advantage is your advantage.
Great availability = quick replacements
We stock up on product, not least so we can help you out with a replacement unit if need be, because we all know that gear tends to fail just before an important gig.
Centralised storage = fast delivery
Our logistics facility is based entirely at Treppendorf. That way we have quick access to every item in our range.
That's How Quickly Our Shipping Department Works
Tuesday, 05.12.2023
Ø 7.98 hours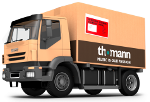 Time from creating the order to dispatch
Clearance stock = best possible price
Manufacturers and distributors like to dispose of clearance stock all at once, not one unit at a time over many months. We always keep enough buffer space in our warehouse for special deals like this. Sometimes, a brand's distributor changes, or even goes out of business completely, and we can secure the whole of the remaining stock at a discount, enabling us to pass the saving on to you.
Direct imports = high availability
Not only do we import our own brand products directly, but we also buy many brand name products directly from the manufacturers' factories. That way we aren't limited by the local distributors' quantities and can keep products available which are officially sold out.

Containers = low transport costs
Tolls and ever increasing fuel prices have made transport costs a substantial part of total purchasing prices. In the end, it's always the customer who pays for that, no matter where they buy. The most efficient way, therefore, is to buy by the container. Just one container can hold up to 1,500 guitars of just one model, 2,000 power amps, or 4,000 keyboards :-)
Availability statistics of our current stock
The continual expansion of our warehouse capacity means that more and more items are in stock. Today, 92% of our items are available without delay.
In stock

(93,640 item(s))

In stock soon

(8,200 item(s))

Items with longer delivery times

(8,333 item(s))

Not yet available

(1,491 item(s))

Not immediately available

(133 item(s))
This is how you can reach us