E-Drum Set
With Roland TD-17 drum module 2.0

336 Sounds inspired by the flagship Roland TD-50

70 Preset kits

50 User kits

11 Multi-effects

Quick Record

Coach function with Time Check and Quiet Count to promote beat feeling

WAV samples importable via SD/HC card

Bluetooth 4.2 transceiver for wireless streaming of music directly from smartphone or MIDI to compatible devices

Sounds can be altered in pitch, damping, snare wires tension and snare buzz

Reverb, compressor and equaliser adjustable for each instrument

Global bass and treble equaliser

Smartphone tray

All drum pads with double-layer mesh heads

Crash and ride cymbals with thinner profiles for a realistic feel and vibration behaviour

Multipin plug (Trigger In) for the included pads

2x 6.3 mm jack trigger inputs for additional pads (one of them is already occupied)

2x 6.3 mm jack main outputs

6.3 mm jack headphone output

3.5 mm stereo jack aux-in

MIDI out

USB to PC (USB audio and MIDI)

Required floor space: approx. 160 x 80 cm

Incl. cabling and power supply
Set configuration
12" Two-zone snare pad (PDX-12)

3x 8" Two-zone tom pad (PDX-8)

10" Kickdrum pad (KD-10)

Two-zone hi-hat pad (VH-10)

2x 12" Two-zone crash pad (CY-12C-T)

14" Three-zone ride pad (CY-14R-T)

MDS-Compact Drum Rack
Note: Kick drum pedal, hi-hat stand, seat and sticks not included
Available since
October 2022
The new benchmark in mid-priced e-drums
With its TD-17KVX2 e-drum set, Japanese manufacturer Roland has taken its successful mid-priced TD-17KVX model to the next level. The set now features 70 pre-set drum kits, 30 user memory slots, and 343 sounds, which are largely inspired by Roland's flagship TD-50 series and focus on the reproduction of acoustic drum and percussion sounds. The kit, which comes complete with mesh head pads, features various play-along songs and training functions to create the perfect foundation for practice sessions, and offers the user wireless connection via a Bluetooth interface. The icing on the cake comes in the form of a sample import function, which allows the user to make further additions to the range of available sounds as required.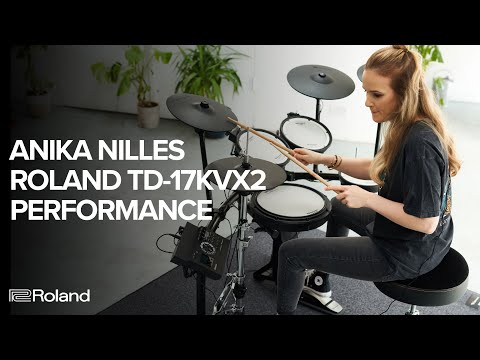 Sonorous cymbal pads
Unlike its predecessor, the TD-17KVX2 is fitted with newly developed dual and triple-zone cymbal pads, which measure 12 and 14 inches in diameter and, thanks to their special thin construction, provide a more realistic response compared with heavier cymbal pads. The 10" tom pads and 12" snare pad, all in a dual-zone design, are large enough to provide a comfortable playing feel – a feature also shared by the 12" VH-10 hi-hat pad, which, like traditional hi-hat cymbals, is mounted on a conventional stand. As with the bass drum pedal, however, this must be purchased separately. In terms of sound production, the primary focus of the TD-17KVX2 is on creating acoustic sounds that are both dynamic and authentic and, of course, include the sound repertoire of the classic Roland drum machines (CR-78, TR-808/909, etc.).
Spontaneous sound configuration
The Roland TD-17KVX2 e-drum set comfortably bridges the gap between intuitive useability and complex editing options, making it the perfect "plug-and-play" kit for discerning drumming enthusiasts and a creative recreational tool for sound artists and drummers looking to incorporate personalised sounds into their performances – be it for band rehearsals or live gigs. 32MB of memory provide sufficient space for up to 100 user samples. Sound variations in the form of tonal changes and damping can be applied in seconds, and separate potentiometers for bass, treble, and ambience provide an immediate sound adjustment facility. Key features include numerous multi-effects and a layer function, which allows the user to manage four sounds (2 x head, 2 x rim) with just one pad, thus permitting limitless creativity.
About Roland
The Roland company was founded in 1972 in Osaka, Japan, and has been designing and building electronic musical instruments ever since. During its successful history, Roland has launched many ground-breaking instruments, from legendary drum machines such as the TR-808 and the TR-909 to synthesizer classics like Jupiter-8, SH-101 and the iconic TB-303. Besides synthesizers, Roland's workstations and electric pianos are also very popular. Equally well-known is Roland's subsidiary Boss, under whose brand name it designs and sells principally guitar pedals and effects units. Under the Roland Professional A/V label, the company additionally develops and distributes professional equipment for virtually every branch of audio and video production - from home studios through to commercial applications.
Taking wireless practice to a whole new level
The Roland TD-17KVX2 provides the optimum solution for enthusiasts who are looking for a domestic e-drum set with excellent acoustics and intuitive operation that also offers a flexible tonal range and reproduces dynamics and sounds to authentic effect. Robust mesh heads composed of two material layers ensure the perfect rebound, which can be varied with the aid of square-head bolts. Users can practise their favourite songs in an instant simply by placing a smartphone on the shelf provided and activating Bluetooth. The excellent collection of internal sounds can be expanded to include user samples created by the artist, and a USB connector provides access to external sound libraries for an infinite array of sound options.
This is what customers who viewed this product bought