24-Channel mixing console with integrated stage box and DSP
Parallel multitrack recording to USB drive & DAW

20 Mic / Line inputs: 10x XLR, 10x 6.3 mm jack combo

2 RCA line inputs

2-Channel USB media player (MP3, WAV, AIFF playback)

22-Channel USB direct-to-memory recording

32-Channel recording interface (I/O via USB-B port)

Internal sample rate: 48 kHz

2 Additional USB ports for controllers & updates

2 XLR & jack main outputs

8 XLR AUX outputs

2 Headphone outputs

RJ45 Ethernet connector

HDMI port for mixer control via a monitor

Integrated dualband WLAN & Ethernet (2 antennas, 2.4 / 5 GHz)

Compatible with iOS, Android, Windows, Mac OS, Linux (via HTML5)

Accepts up to 10 devices simultaneously (tablet, smartphone, PC)

Signal processing from dbx, Lexicon, Digitech

20 High-quality Studer designed mic preamps

Input channels with 250 ms delay, 4-band parametric EQ, gate, compressor, de-esser, HPF

2 Channels include DigiTech amp / guitar modelling

8 AUX buses with 31-band graphic EQ, AFS2 Feedback Suppression, and dbx compressor

120-Band real-time analyser (inputs and outputs)

500 ms (approx. 170 m) of delay on the output busses

4 Lexicon effects busses (reverb, delay, chorus, room)

Format: 19" / 4 U

Dimensions (L x W x D): 177.8 x 482.6 x 165.1 mm

Weight: approx. 5.1 kg

Compatible touchscreen: Art.493983 (not included)
Compatible case: Art.496312 (not included)
Digital stagebox connection
No
integratated Player/Rec via USB/SD
Multitrack
Soundcard interface
USB-B
Separate Personal Monitor system
No
Live mixer and recording studio
In terms of sound technology, a lot has happened in the last ten years. Whether in the home studio or in the professional recording environment, whether on small or large stages - digital technology has replaced analogue equipment almost everywhere and replaced it with new, innovative technical possibilities, and above all at comparatively affordable prices. The Soundcraft Ui24R belongs precisely in this category: This digital mixing console is ultra-compact and at the same time represents an affordable solution for professional live mixing as well as for making multi-channel recordings in the best possible quality. It is especially suitable for bands who like to mix their own sound but only have a small budget at their disposal.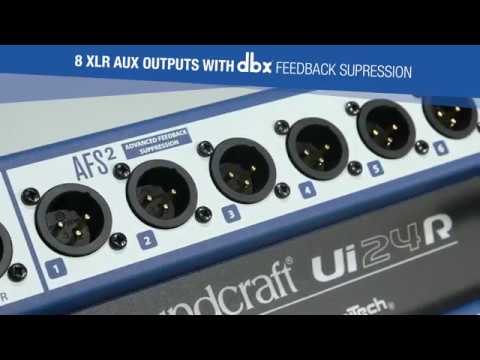 Mixer, stagebox, and recording device in rack format
The Soundcraft Ui24R is anything but a conventional live mixing console. The 4U/19" unit looks very different from traditional consoles, but this should come as no surprise, since it is more of a combination of a stagebox, router, effects unit (via the integrated DSPs) and a recording device. The actual mixing is then done via smartphone, tablet, or PC - this is not a disadvantage, however, because it means that overly long cables, extra stageboxes, and similar accoutrements are a thing of the past and it is significantly easier to monitor everybody who is on the stage.
A rack-based control centre for mixing and recording
The Soundcraft Ui24R is not only a good choice for bands who mix their own sound but also for clubs or venues that don't have their own FOH but still want to get a good sound. The cabinet is simply placed (preferably housed in a rack) close to the musicians. The Ui24R has 20 mic/line inputs, two RCA inputs, and a two-channel USB media player, e.g. for intermission music. The user also has effects, AUX paths, and headphone outputs at their fingertips as well as an integrated router that allows up to ten users to connect wirelessly to the mixer via smartphone or tablet. It should take only a short time to become familiar with the Soundcraft Ui24R, then a really good sound can be mixed in a flash. In addition, the Soundcraft Ui24R is also a recording device with a 22-channel USB recording output for use with a USB stick. At the same time, it can be used as a 32-channel recording interface (I/O via USB-B port).
About Soundcraft
The British company Soundcraft was founded in 1973 and has been developing mixing consoles and audio equipment ever since. Soundcraft first rose to fame with its "Series 1" mixing console, which featured a noteworthy flight case and a multi-pin interface. The company continues to make the most of its years of experience and now also develops high quality digital equipment for the music scene, sound engineers and DJ's included. In 1988 firm was taken over by electronics manufacture Harmannn, which was itself bought by Samsung in 2017.
Mixing and recording has never been so easy
As soon as the Soundcraft Ui24R is positioned on or next to the stage, most of the setup work is already done. All that remains is for two cables to be connected to the power amplifiers or speakers which provide sound for the stage and also supply up to 24 input channels with the stage signals. Not much needs to be adjusted on the unit itself, because everything else is controlled via (up to ten) smartphones or tablets, meaning that one person can take care of the sound in the venue while the others create a monitor mix in the meantime. As the R in its name suggests, the Ui24R can also be used for complex recordings involving up to 32 tracks. So whether it's a matter of recording a live concert or making home studio recordings, the Soundcraft Ui24R mixer offers the best possible tools for the job.
This is what customers who viewed this product bought